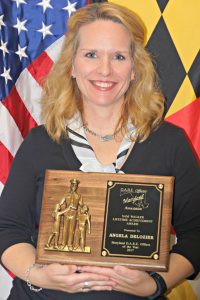 On Wednesday, April 12, Corporal Angela M. Delozier received the prestigious Sam Walker Lifetime Achievement Award at the Maryland State D.A.R.E. conference and in-service training in Ocean City.
A 13-year veteran of the sheriff's office, Delozier has been a D.A.R.E. instructor for the last decade and teaches new D.A.R.E. instructors in Maryland and Virginia. She has also coordinated the Camp D.A.R.E. program in St. Mary's County since 2009 and is responsible for all of the deliverables of the program: overseeing finances, organizing special guests, securing sponsors, processing applications and creating the itinerary for the program while managing junior and senior leaders.
Three schools are assigned to Delozier: Leonardtown High School, James A. Forrest Career and Technology Center and the Fairlead Academy. She addresses priorities at the three schools while working in harmony with the schools' administrators, ensuring a safe and secure learning environment for students. She also monitors social media sites where she has received valuable information that she has used to intervene proactively in conflicts and disruptive criminal activity.
Delozier is not only praised for her excellent working relationship with the school staff but with the student body as well.
In her daily activities, Delozier is dependable, reliable, and charismatic. She is often asked to represent the agency at speaking engagements throughout St. Mary's County. She has been described as a team player, never hesitant to assist with operations at other schools or with investigations involving the students.
"Corporal Delozier is a pleasure to work with, and the dedication she displays to her division, agency, and citizens is commendable," said Captain Steven Hall, Special Operations Division Commander. "She takes great pride in her position as a School Resource Officer, and that is evident by her compassion for her students and desire to promote a positive image of the St. Mary's County Sheriff's Office."
Sergeant Michael Gray commented, "In addition to her roles as the School Resource Officer and Camp D.A.R.E. coordinator, Delozier continues to spearhead several complex assignments including National Night Out. All of her projects are successful and continue to grow and become better each year."
The Sam Walker Award is given to an officer nominated by his or her agency. Each nominated candidate has demonstrated a high degree of commitment to the D.A.R.E. program in the candidate's school, community and state. The four to five nominations across the state that are received annually are reviewed by a panel consisting of former recipients of the award before a final selection is made.