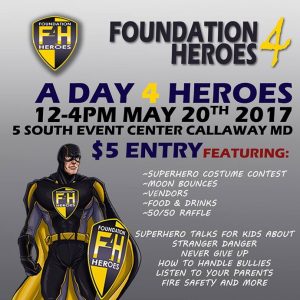 On May 20th, 2017, from 12 – 4pm, Foundation 4 Heroes is having their first annual "A Day 4 Heroes" at the 5 South Event Center in Callaway, Md.
A Day 4 Heroes was created as a great way to bring the community together to recognize and show appreciation to our local heroes – EMS, Firemen, Sheriff, Police and teachers.
Well the nominations are in, the voting is over and we are excited to announce the winners selected by the public and their peers.
Please join us for some fun in Southern Maryland. Entry is just $5. Park in the back of the building and enter the back door. You will have your hand stamped and receive a Foundation 4 Heroes bracelet and poster. One hundred percent of the proceeds will be used to help F4Heroes continue their mission to visit children in hospitals and show support of our nation's' veterans.
There will be lots of activities and things to do.
Superhero Costume Contest for kids 0 – 5, 6 – 16 for prizes. 1st – $100, 2nd – $50 & 3rd – $25
Moon Bounces
Face Painting
Superheroes and community heroes talk for kids about stranger danger, never giving up, making healthy choices, listening to their parents, fire safety, bullying and more
Vendors with food, drinks
crafts and more
Recognition of heroes from our community
Above Average Graphing will have sports memorabilia up for auction
Other auction items as well
Superhero Coloring Table and sidewalk chalk
Oh right, the Winners!!
Trooper First Class Casey Ruth – Maryland State Police – For her outstanding work in the community and as the Leonardtown Barrack Recruiter.
Corporal Kenneth Flerlage – St. Mary's County Sheriff's Office – Stat leader and volunteers his personal time as Adopt a school officer at Mechanicsville Elementary. Always willing to help and a consummate professional.
Cpl. Dale "Danny" Reppel – Fire – Also a St. Mary's sheriff, he has been a member of the volunteer fire depth since 1992, and been a member of the volunteer rescue squad since 2011. Senior firefighter and head of fire prevention.
Jacqueline Norris – She is an EMT and volunteers for Leonardtown. She is always helping everyone!
Ms. Jennifer Campbell – Her calm, nurturing, and gentle demeanor is commendable, but she also has her Montessori training and impeccable character and good hearted nature, to bring the best out of her students.
Ms. Natalya Cisneros – is an absolute gem.  She has a passion for early childhood education and the Montessori philosophy.  She is always ready to take on a new adventure.
_______________________
We also have been trying to find some gift cards to give them as well. More appreciated.
Foundation 4 Heroes is a volunteer-based, 501c.3 nonprofit organization that visits children in hospitals dressed as superheroes, talks to kids in school about: (1) always doing the right thing, (2) never giving up, (3) listening to your parents, (4) choosing healthy habits to keep you strong and (5) never being a bully (by being kind and respectful to others) and supports and thanks Veterans for their courage, service and sacrifice.
Community support is the only way F4Heroes can continue doing great things in our communities. We would like the time to acknowledge these businesses for committing to us, and ultimately, you.
Vibranium Sponsor
AdvantEdge LLC
Adamantium Sponsor
5 South Event Center
Above Average Graphing
Back At Your Best Chiro & PT
BB&T
BLB Productions
Elite Beatz
LuLaRoe Hannah Hanson
International Process Solutions
Kohls
Metrocast
Mike Batson Photography
Patuxent Custom Printing
Personalized Physical Therapy
SMECO
Smile Castle Pediatric Dentistry
Southern Maryland News Net
Spalding
Tantaztic Tanning
The Baynet
The Trophy Shop
Tidewater Dental
Palladium Sponsor
Boothe's Heating & Air Conditioning
Chris King
Dean Lumber & Supply
Fit U Training
Harbor Bay Clinic of Chiropractic
St. Mary's County Lodge 2092
Shadowens Services, Inc.
Starmaker School for Early Education at Wildewood
Vendors & Donors
2 Broke Girls Boutique
Abby + Anna
Above Average Graphing
AVON
Back At Your Best Chiropractic & Physical Therapy
Bay Dawgz
BJ's Wholesale
Cameron's Smoothie Shack
Cake Balls by Natalie
Chick Fil-A
Crabby Corn
Craven Creations
Grateful Box
Initials Inc
Jamaican Grill
Lip Sense/Read My Lips by Brook
LuLaRoe Hannah Hanson
LuLaRoe with Jennifer Cummings
Mike Batson Photography
Olive Garden
Outback Steakhouse
Papa John's Pizza
Perfectly Posh
Red Robin
SKYZONE
SMECO
Smile Castle Pediatric Dentistry
Suburban Propane
Target
Thirty One
Usborne Books