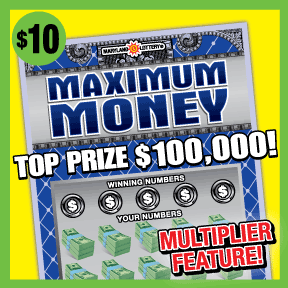 Keeping a $100,000 top-prize Maximum Money scratch-off safe and sound until he could bring it to Maryland Lottery headquarters was of maximum concern for a lucky Lexington Park man.
After scratching off the $10 game he bought at Corner Liquors in Lexington Park, the loyal scratch-off player immediately signed the winning instant ticket. "I couldn't believe my eyes," he said. His next issue was where to hide the lucky scratch-off.
"I put it in the gun safe first," said the electronics worker. "Then, I took it to my ex's house and hid it there."
The 68-year-old happily claimed his prize at Lottery headquarters this week. The scratch-off fan also plays Mega Millions and he scored a $2,200 win on Multi-Match several years ago. This prize set a new personal record. He plans to pay bills with the winnings and put the remainder of his prize into savings.
Maximum Money still has plenty of unclaimed prizes. Players can try to find seven more $100,000 top prizes and 31 unclaimed $10,000 prizes in addition to thousands of other prizes ranging from $10 to $1,000.
His lucky St. Mary's County retailer also shares in the fun. Corner Liquors, located at 46920 South Shangri La Drive will receive a $1,000 bonus from the Lottery for selling the top-prize scratch-off in the new game. Maximum Money went on sale April 24.