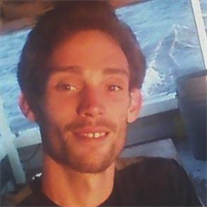 Stephan "Dink" Matthew Whitehurst, Jr., age 27, of Chesapeake Beach, MD, passed away on Sunday, May 14, 2017, at George Washington University Hospital with his family by his side.
Stephan, beloved son of Stephan "Matt" Matthew Whitehurst, Sr. and Wanda (Dillon) Whitehurst, was born on November 22, 1989, in Annapolis, MD.
In addition to his parents, Stephan is survived by his 8-year-old son, Stephan Matthew Whitehurst III; sister, Danielle Dillon (Jim Taylor); brother, Robert Whitehurst; nephew and niece, Jaden and Skylar Whitehurst, maternal grandmother, Maryanne Dillon, and several beloved aunts, uncles, and cousins. He is preceded by his paternal grandparents, Mary C. and Phillip D. Whitehurst Sr. and maternal grandfather, Robert "Bob" Dillon.
Stephan loved his job working on crab boats. To say he loved being out on the Chesapeake Bay is an understatement. Stephan loved spending time with his son, and being "Uncle Dink" to his niece and nephew. His quick wit and goofy smile was guaranteed to light up a room, and make everyone laugh. He had a gift for being able to turn a bad day into a great one with his unique outlook on life. He never took a day spent with his family for granted, and usually was already planning the next adventure. He was always momma's boy, and made sure to let his siblings know every chance he got. Stephan was not only a son, but was best friends with his dad. Stephan and his siblings had a special bond; whether it was sitting around with Rob, talking about the next fishing adventure; or telling Danielle that she wasn't moving to her beach house without him, or all three recounting all the inside jokes and memories from when they were kids. These were the moments that Stephan lived for and anyone that knows him, knows he is smiling with his goofy grin and yelling "Bangarang!" right now.