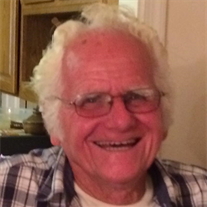 Harvey Hilton Taylor, Jr., 77, of Temple Hills, MD passed away on May 13, 2017. Harvey was born on March 13, 1940 to the late Harvey Hilton Taylor, and Clara Ruby Grimes in Washington D.C.
Harvey is predeceased also by his late Wife, Alice K. Taylor. Son, James Russell Taylor. Brother, Harry "Skippy" Clayton Taylor.
Harvey was a hardworking man. He retired as a Heavy Equipment Operator. He enjoyed his Garden, 1947 Tractor, and his 1987 Dodge Truck.
Harvey is survived by his Wife, Kelly Taylor. Children, Harvey H. Taylor, III, Terry K. Taylor, Lionell H. Taylor, and Kelly A. Flowers. Grandchildren, Alison K. Taylor, Betty N. Taylor, Melody A. Taylor, Travis W. Taylor, and Alyssa A. Flowers. Sisters, Mary Jo Taylor, Clara Johnson, Judy Simonson, and Brother, Lloyd Altimus.