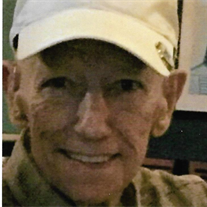 Edward H. Nichols, 86, passed away on May 14, 2017. Born on November 29, 1930 in Washington, DC, son of the late Clyde and Martha (Lynn) Nichols.
He was the beloved husband of the late Agnes (Dailey) Nichols who passed in 2012. He was employed by the Pipe Coverers Union, Local #24 for many years before retiring in 1986.
He is survived by five daughters; Veronica Orsini (John), Debra Jones (Tony), Lorraine Nichols, Belina Lee, and Mary Beth Elmore (K.C.) and son David Nichols (Sharon). He was the grandfather of 11 grandchildren, 14 great-grandchildren, and also survived by other family and friends. He was preceded in death by his son Edward H. Nichols, Jr. in 2000.