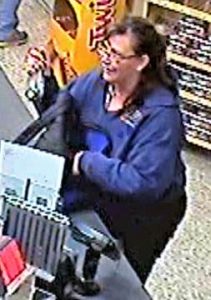 The St. Mary's County Sheriff's Office is seeking the identity of the person pictured.
On Sunday May 14, 2017, at 4:26 a.m., while inside the Lexington Park Wawa, the night manager confronted the suspect after observing her place food items into a backpack. While at the front counter, the suspect then assaulted a victim by snatching items from another customer's hands and throwing them, hitting the victim in the face. The suspect then left the store without paying for one item still in her backpack.
Anyone with information about the identity of the suspect and/or about this incident is asked to contact  Deputy Phillip Henry at 301-475-4200 x *8012 or email [email protected]
Reference: CCN 25406-17.