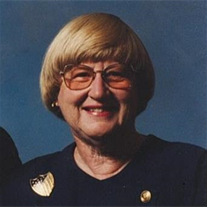 Elizabeth Ann "Liz" Raymond, age 89, of La Plata, Maryland, died May 18, 2017 at Sagepoint Senior Living in La Plata, Maryland.
Liz was born in La Plata, Maryland on August 4, 1927. She was the Valedictorian of her 1945 graduating class from Sacred Heart Catholic School. She was a lifelong member of Sacred Heart Catholic Church. Liz was a Retired Administrative Secretary with the Prince George's County Mental Health Department, after 28 years of service, the Owner/Operator of Raymond Dance School for 40 years, and the Co-Owner, with her husband Daniel, of Raymond Monuments for 30 years.. Liz was also a former Regent of the Daughters of the American Revolution and a Docent with the Dr. Samuel Mudd House. Liz was elected in 1985 to serve as the Ward 3 Councilwoman on the Council of the Town of La Plata. She was elected to four consecutive four-year terms, serving for 16 years, from 1985-2001.
She was the daughter of Walter T. Sollars, Sr. and Lucille Hyde Sollars. She was also preceded in death by her husband of 50 years, Daniel Robert Raymond; one brother, Walter T Sollars, Jr.; and one grandson, Joshua Raymond.
She is survived by her three sons, Michael O. Raymond and wife Tina, Stephen H. Raymond and wife Vickie, and David N. Raymond; six grandchildren, Michael O. Raymond, Jr., Lindsey L. Raymond, Kelli A. Raymond, Tyler S. Raymond, Molly Rebecca Raymond, and Andrew Raymond.
Friends will be received on Thursday, May 25, 2017 from 2-4pm and 6-8pm, with Wake Service at 7pm, at Raymond Funeral Service Chapel, 5635 Washington Avenue, La Plata, Maryland 20646. Mass of Christian Burial on Friday, May 26, 2017 at 10AM at Sacred Heart Catholic Church, 201 St. Mary's Avenue, La Plata, Maryland 20646.
Interment to follow at St. Ignatius Chapel Point Catholic Church, 8855 Chapel Point Road, Port Tobacco, Maryland 20677.