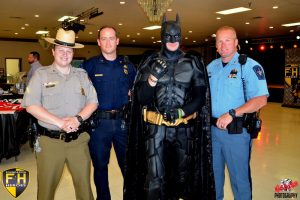 Foundation 4 Heroes had their first fundraiser Saturday called, "A Day 4 Heroes" and the community embraced their idea and showed some wonderful support. Heroes from far and wide gathered for the event honoring our community's real heroes who make a difference in St. Mary's County.
The weather was perfect, the food was good, the music was popping and people seemed to have a blast as superheroes packed inside and outside of the 5 South Event Center in Callaway, MD.
Receiving the Community Hero Awards on this day were: Trooper First Class Casey Ruth – State Police, Corporal Kenneth Flerlage – Sheriff, Corporal Dale "Critter" Reppel – Fire, Jacqueline Norris – EMT and teachers Mrs. Jennifer Campbell and Ms. Natalya Cisneros.
As a bonus surprise, Foundation 4 Heroes was also able to collect an envelope of gift cards from Chick fil-A, Olive Garden, Outback Steakhouse, Papa Johns and a Mission BBQ gift basket. A total value of approximately $100.
If you like auction items there were plenty from Washington Capitals jerseys, toys, games, beauty products, clothing, Girl Scout Cookies and more from the generous donors.
When you needed a snack you could choose from Bay Dawgz, Dan D's Catering and The Jamaican Grill. Folks were raving about the deliciousness of these three businesses. Top that off with a cool drink from Cameron's Smoothie Shack and some Crabby Corn or some Cake Balls by Natalie, and you were in pretty good shape.
The superhero costume contest was very difficult to judge. The kids looked great and the winning costumes were Harley Quinn, a fireman, Star Wars' Rey, Wonder Woman, Captain America and Deadpool. It was so difficult at round 2 that F4Heroes gave $15 to a fourth place finisher because his Boba Fett costume was awesome and it was a close contest.
The first place winner dressed as Harley Quinn from Round 1 donated her winnings back to Foundation 4 Heroes. We were able to give her a donated Grateful Box so she can jot down things she is grateful for each day and then look back on them days or years later. What an amazingly thoughtful thing to do for a child of her age. Very inspirational.
The $5 entry was reasonable to people considering it benefited a nonprofit charity and folks had a chance at door prizes and received a Foundation 4 Heroes bracelet. Not to mention their kids got to dance, color and play with their favorite superheroes like Spiderman, Green Lantern, Batgirl, Batman, Thor, Wolverine, Supergirl, Deadpool, Green Arrow, Wonder Woman, The Flash, Superman, Hawkeye, The Minion and The Punisher.
In fact, of the $4000 raised Foundation 4 Heroes has already purchased 200 of their coloring books for kids in preparation for their visit to Walter Reed National Military Hospital June 4
th
and also for their stop at the USO. Locally they will be delivering some of the F4Heroes' laminated posters offering a solution to bullying to schools in St. Mary's County.
Some of this money will also go towards their August 16th Veteran's Day at the Park, where a busload of Veterans from the Charlotte Hall Veteran's Home and treated to a baseball game at the Washington Nationals Park.
A Day 4 Heroes was created as a great way to bring the community together to recognize and show appreciation to our local heroes – EMS, Firemen, Sheriff, Police and teachers. Mission Accomplished. They have received several calls acknowledging the appreciation of this event.
If you were looking for a special picture from the event, the whole album of shots they have will be posted on their facebook page. Just like their page to show support and find the picture you want.
Please join Foundation 4 Heroes next year as planning has already begun and it will be more super than this year. Thank you to all of the sponsors, vendors, donors and the community who spent their afternoon with F4Heroes. It was truly, A Day 4 Heroes.
Foundation 4 Heroes is a volunteer-based, 501c.3 nonprofit organization that visits children in hospitals dressed as superheroes, talks to kids in school about: (1) always doing the right thing, (2) never giving up, (3) listening to your parents, (4) choosing healthy habits to keep you strong and (5) never being a bully (by being kind and respectful to others) and supports and thanks Veterans for their courage, service and sacrifice.
To learn more how you can be involved, contribute or help Foundation 4 Heroes, visit them on facebook or at www.F4Heroes.com.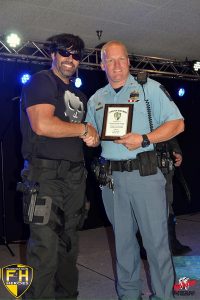 Vibranium Sponsor
AdvantEdge LLC
Adamantium Sponsor
5 South Event Center
Above Average Graphing
Back At Your Best Chiro & PT
BB&T
BLB Productions
Elite Beatz
LuLaRoe Hannah Hanson
International Process Solutions
Kohls
Metrocast
Mike Batson Photography
Patuxent Custom Printing
Personalized Physical Therapy
SMECO
Smile Castle Pediatric Dentistry
Southern Maryland News Net
Spalding
Tantaztic Tanning
The Baynet
The Trophy Shop
Tidewater Dental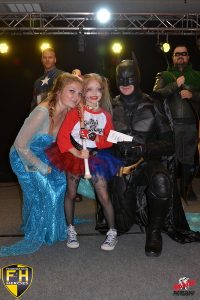 Palladium Sponsor
Boothe's Heating & Air Conditioning
Chris King
Dean Lumber & Supply
Fit U Training
Harbor Bay Clinic of Chiropractic
St. Mary's County Lodge 2092
Shadowens Services, Inc.
Starmaker School for Early Education at Wildewood
Vendors & Donors
2 Broke Girls Boutique
Abby + Anna
Above Average Graphing
Absolute Carpet and Tile Cleaning
AVON
Back At Your Best Chiropractic & Physical Therapy
Bay Dawgz
BJ's Wholesale
Cameron's Smoothie Shack
Cake Balls by Natalie
Chick Fil-A
Crabby Corn
Craven Creations
Dan D's Catering
Get Twisted
Grateful Box
Initials Inc
Kreative Kharacters
Lip Sense/Read My Lips by Brook
LuLaRoe Hannah Hanson
LuLaRoe with Jennifer Cummings
Mike Batson Photography
Olive Garden
Outback Steakhouse
Papa John's Pizza
Perfectly Posh
Personalized Physical Therapy
Red Robin
SKYZONE
SMECO
Smile Castle Pediatric Dentistry
Suburban Propane
Target
The Jamaican Grill
Thirty One
Usborne Books