International Card Manufacturers Association Recognizes Maryland DL/ID with 2017 Élan Award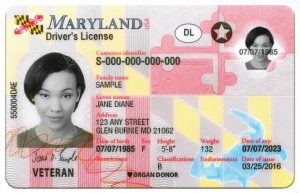 Maryland's Driver's License (DL) and Identification Card (ID) has recently been named the recipient of a 2017 Élan Award for Card Manufacturing Excellence. The award honors innovative card manufacturers, personalizers, issuers, and suppliers who support a commitment to design quality, technical innovation, and the future of the global card industry.
"Residents, businesses, and law enforcement can be proud we are getting international recognition for having the most secure driver's license in the nation," said Maryland Department of Transportation Secretary Pete Rahn.
The Maryland Proud cards feature multiple layers of security to help prevent identity theft and fraud. Security features include:
• Polycarbonate card body — more durable and tamper-resistant;
• Laser engraving — maximum protection against forgery;
• Changeable laser image — allows two or more images to occupy the same area; and
• Tactile text — raised print making it difficult to tamper.