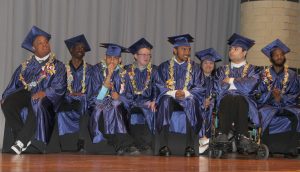 Charles County Public Schools (CCPS) held its first official graduation ceremony of the 2016-17 school year on Friday, May 19 as school system staff and families celebrated eight graduates of the Adult Independence Program (AIP).
Honored were Brandon Garner, Nathaniel Gilchrist, D'Armae Griffin, Thomas McKenzie, Michael Proctor, Devonte Smith, Mariah Viray and Dennis Weeden, Jr.
At the start of the ceremony, families and guests cheered for the graduates as they took their seats on the auditorium stage at North Point High School. Several "oohs" and "ahhs" joined by applause filled the room as the ceremony began with a picture slideshow depicting each graduate's journey to their completion of the AIP program.
Students in the program receive community-based learning experiences and on-the-job training to learn about living successfully as an adult. The program is designed for students ages 18 to 21. When AIP students graduate, they leave with employment skills such as completing a job application and accessing public transportation to learning how to manage their finances and communicate with their peers.
Ann Walter is the coordinator at the Waldorf Senior Center and worked with the eight graduates as part of their program training. She served as the guest speaker at the graduation ceremony and talked about how the graduates grew during the program, but also taught her several things.
"You are patient. You look out for one another and show pride in your work. You all smile, smile, smile. You have taught me to smile more. You are kind. You are kind to one another and taught me that kindness goes a long way. Be proud. Everyone in here is so proud of you," Walter said.
Walter also detailed the program experience of each graduate and highlighted his or her accomplishments.
Garner works at Apple Spice Junction in La Plata and is a member of a local volunteer rescue squad. He enjoys playing basketball with Special Olympics and will continue working at Apple Spice Junction and with the Arc of Southern Maryland.
Gilchrist enjoys playing basketball and is known among his peers as a great singer and dancer. He takes pride in his t-shirt collection and recently became a new uncle. He is working with Creative Options, a program that assists community members with disabilities in transitioning into employment and other skill-based training programs.
Griffin is known as a gentleman who goes out of his way to be respectful and courteous. Walter said his smile lights up a room and that Griffin is an observant person. A future goal for Griffin is to volunteer with a local fire department. He will continue to work with the Arc of Southern Maryland.
McKenzie is known for his willingness to try new things and for being social among his peers. He enjoys zombie movies and loves plants and being in nature. He will continue to work with the Arc of Southern Maryland to focus on job training.
Proctor is known for his basketball skills and for being a gentleman. He enjoys working with his hands and likes to stock shelves and be social. Proctor will also continue his job training with Creative Options.
Smith has worked at T.J. Maxx retail store for the past four years and plans to continue his employment there. His initial goal for his AIP experience was to learn how to be more independent.
Viray loves to work with her hands on drawings and coloring projects. She enjoys dancing and plans to work in retail to explore her love of fashion. She will also continue working with Creative Options.
Weeden loves music and reading. He also likes working on computers and socializing with his peers. He will continue job training with the Arc of Southern Maryland.
Christina Sprague is an instructional specialist with CCPS and works with students in the AIP daily. In closing the ceremony, she told the graduates she was thankful to know each of them and told them to be proud of their hard work.
"It has been amazing to work with you all. You always, always teach me something new and I am so proud of your accomplishments," Sprague said.
This year's AIP community partners and employers include Apple Spice Junction, Arc of Southern Maryland, Bay Community Support Services, Big Lots, Capital Clubhouse, Charlotte Hall Veterans Home, Charles County Department of Community Services, College of Southern Maryland, Courtyard Marriott, Creative Options, Division of Rehabilitation Services, Elite Gymnastics Center, First Baptist Church of St. Charles, Grace Lutheran Church and Genesis Healthcare.