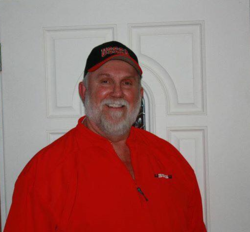 Steven "Steve" Douglas Ramey, 57, of Chaptico, MD passed away on May 21, 2017 in Mechanicsville, MD 20659. Steven was born to Grady Ramey and Patricia Keller Ramey on December 22, 1959 in Leonardtown, MD. Steve formerly worked at Goad Lumber Co. in Aquasco, MD from 1994 to 2014. Presently, he was employed at Rock Wood Products in Bowling Green Va. Steve was a member of the Tri-County Sports Officials Association, USSSA, and the Moose Lodge in Mechanicsville. He enjoyed hunting, playing cards, and racing in his younger days. Steve loved officiating softball games and when he wasn't on the ball field, he was fishing on his boat "Bigfoot". He was well known for his quick wit and giving the ball players a hard time on and off the field and the players loved him for it. He loved the Orioles and, as much as they let him down, he was a diehard Redskins fan.
Steve was predeceased by his brother, Carl Ramey. He is survived by his wife of 21 years, Fran Hammett; parents, Grady and Patricia Ramey; stepson, Tom "TG" Stone (and wife Stephanie); sisters, Loretta Graves; Barbara Shawyer (and husband Kenny) and sister-in-law, Carol Ramey. He also had many nieces and nephews that he adored. Steve was adored by children, as many of them thought that he was "Santa Claus" with a summer job of umpiring softball games. To many of them, he was also known as "the tic tac man", and every time showed up to the ballfields, kids would run up to him knowing he would have some tic tacs candy for them. Steve was a big-hearted, generous man, who loved his friends, loved picking on them but would do anything for anybody. He loved his pets Barney, Candy and Cheech.
Family will receive friends for Steve's Life Celebration on Friday, May 26, 2017 from 2-5pm and 6-8pm at Brinsfield-Echols Funeral Home, 30195 Three Notch Road, Charlotte Hall, MD 20622, with a funeral service at 7pm.
Interment will be private.