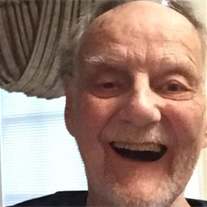 Edward Wallace Gail, age 91 of Charlotte Hall, Maryland (formerly of Louisville, Kentucky), died suddenly on May 20, 2017 at University of Maryland Charles Regional Medical Center in La Plata, MD.
Edward was an accountant for 40 plus years with different companies. He was of the Catholic faith and a member of the Masons and the Moose Lodge. He loved sports, including softball, Pittsburg Steelers football, and the Kentucky Derby horse racing. He most enjoyed getting up in the morning, reading his newspaper and having his coffee and a smoke on his pipe.
He was the son of George Gail and Catherine Bowman Gail. In addition to his parents, he was also predeceased by his daughter, Sharon M. Clemmons and his grandson, Brad Jenkins.
He is survived by his sons, Edward W. and Matthew H. Bellina; his daughters, Lori J. Gail and Andrea R. Jenkins; seven grandchildren; and six great-grandchildren.
Funeral Services and Interment are private.