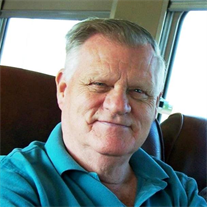 George Eugene "Gene" Taylor of La Plata, Maryland, died suddenly on Saturday, May 20, 2017 at his home. He was 75 years old. Born on November 16, 1941 in Baltimore, he was the son of the late Mary Margaret Haber Taylor and Julius Washington Taylor. Mr. Taylor served in the U. S. Coast Guard until he was Honorably Discharged in 1964. He then served as a Trooper for the Maryland State Police until his retirement. He also attended the University of Maryland where he received a Bachelor's Degree in Business Administration. After his retirement from the Maryland State Police, Mr. Taylor served the Charles County Sheriff's Office as a Background Investigator for many years.
Being a true native of Baltimore, he was an avid fan of the Orioles, Ravens and of Maryland itself. He enjoyed boating, sailing, camping in the family RV, listening to and sometimes singing Irish songs. He loved his visit to Ireland. Mr. Taylor was a member of the Fraternal Order of Police.
In addition to his parents, Mr. Taylor was preceded in death by his brother William "Bill" Taylor and his cousin Tommy Haber.
He is survived by his wife Ann H. Taylor; children Debra J. Taylor (Tina Hamel) and James B. Taylor (Amanda Taylor); grandchildren Ethan, Zoe, and Kate.
Family and friends to gather on Friday, May 26, 2017 from 4 PM to 6 PM with a time for remembering service to begin at 5:30 PM at the Raymond Funeral Service, P.A. 5635 Washington Avenue La Plata, MD 20646.