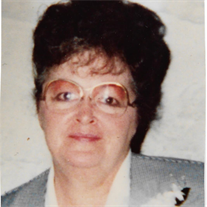 Joyce I. Montgomery, 81, of Owings, MD, passed away on Sunday, May 21, 2017, peacefully at her home.
She was born in Salina, KS, the daughter of the late Sanford and Hildegard (Leaman) Jameson.
She was the beloved wife of Ernest G. "Ernie" Montgomery. They celebrated their 52nd wedding anniversary in April. She worked as a receptionist in a veterinarian's office and enjoyed crabbing, fishing, raising animals and spending time with her grandchildren and her family.
Along with her husband she is survived by four daughters; Lynda, Tina, Sheila, and Susan, seven grandchildren; Rick, Brian, Marlee, Christina, Jocelyn, Ethan, and Billy, three great-grandchildren; Brooke, Ricky, and Lane. She also has two fur-babies "Boomer" and "Rattler".