Maryland's "Ride Inside" Campaign Launched During National Boating Safety Week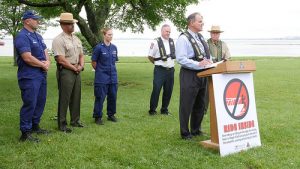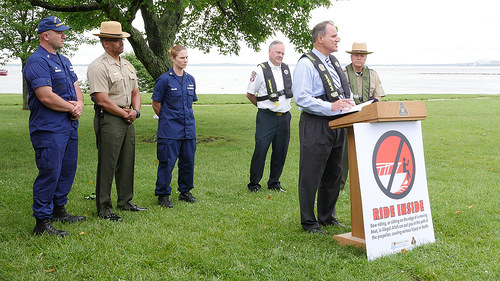 As the boating season gets underway this Memorial Day weekend, state enforcement officials and partners are urging Maryland residents and visitors to take simple, proven steps to keep safe.
This week, Maryland Natural Resources Police and the U.S. Coast Guard held events in Ocean City and Annapolis to kick off the "Ride Inside" campaign to curtail the illegal and dangerous practice of riding on the bow of a moving motorized vessel.
Bow riding was responsible for one death and three serious injuries last year. The fatal accident happened when a young boy riding on the front of a rented pontoon boat near Ocean City fell overboard and was swept into the propeller.
"Take a seat inside the boat and make sure everyone else does, too," Maryland Natural Resources Secretary Mark Belton said. "You wouldn't let a family member or friend ride on the hood of a moving car. You shouldn't ignore common-sense practices just because you're on the water."
Bow riding is considered reckless and neglect operation. The penalty for first-time violators is a fine of up to $500.
U.S. Coast Guard Lt. Commander Sara Wallace, chief of response for the Maryland-National Capital Region, noted that a propeller spinning a 3,200 revolutions per minute can inflict up to 160 cuts in one second and can travel from head to toe in less than one-tenth of a second.
Natural Resources Police officers will be conducting saturation patrols and coordinating with the U.S. Coast Guard to stop bow riders. They also will be ensuring that boats have required safety equipment and that operators are sober.
Last year, 17 people died in boating accidents on Maryland waterways. Three of the accidents took two lives and another accident killed three men. The victims ranged in age from 9 to 70. The vast majority of them were not wearing life jackets.
"The industry is making safer boats and jet skis. Technology is taking the guesswork out of navigation and daily weather reports. It's on all of us to do our part to complete the picture and make Maryland waters safer," Natural Resources Police Superintendent Col. Robert K. "Ken" Ziegler Jr. said. "Certainly, there are things that are beyond your control or simply can't be anticipated but by following some simple guidelines you can reduce your risk and pave the way to a trouble-free outing."
Maryland officials offered the following safety tips for boaters:
Make sure everyone on board has a U.S. Coast Guard-approved life jacket. Children under the age of 13 are required to wear a life jacket aboard a boat less than 21 feet long.
Designate a sober skipper to stay at the helm and be responsible for returning the boat and its passengers safely to shore.
Don't overcrowd the boat. Heed the boat's capacity plate on the transom or by the helm, or look up the passenger capacity in the boat's manual.
Chart a safe course and let someone on shore know where you are going and when you expect to return.
Check the weather and tides before you leave and use a weather radio or smartphone app to stay on top of local conditions.
Carry a cellphone in a waterproof pouch or have a marine radio and monitor VHF Channel 16.