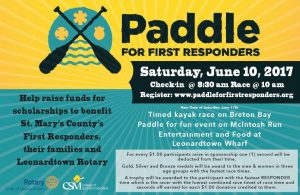 The Rotary Club of Leonardtown and the College of Southern Maryland are teaming up for an event which will support St. Mary's County First Responders. "Our first annual PADDLE FOR FIRST RESPONDERS event," explains Leonardtown Rotary President Barbara Thompson, "will raise scholarship funds to benefit not only these heroes of our community, but also their spouses and children to attend the College of Southern Maryland and their partnering universities.
This exciting event will be held at the Leonardtown Wharf and McIntosh Run on Saturday, June 10, 2017. Event registration is available online or at the event between 8:00 – 9:30 AM. The races will start at 10:00 AM. Visit https://www.paddleforfirstresponders.org/ to register or for more details email [email protected]. Rotary is also seeking sponsors for the event. See the website for more details.
"This event is actually two events in one," explains former Rotary President and event organizer Stu Garlington. First, there's timed kayak and paddleboard races on Breton Bay. The races will be about four miles in the protected waters of Breton Bay starting and ending at the Leonardtown Wharf. There is a $50 registration fee and Racers are encouraged to seek out pledges to raise additional funds for the cause. For every dollar pledged in a racer's name, a second will be taken off their time. For people who might enjoy a noncompetitive experience and want to participate, a paddle for fun event will take place simultaneously on McIntosh Run. This leisurely paddle through beautiful scenery starts at the Port of Leonardtown Park and ends at the Leonardtown Wharf. You may see eagles and other wildlife and emerge on Breton Bay relaxed and ready to join in more festivities. There is a $35 registration fee for the fun paddle and participants are also encouraged to seek pledges.
Food and entertainment will be at the Leonardtown Wharf during the event. At the conclusion of the races and fun paddle lunch will be provided for the participants and trophies will be awarded for the multiple levels of participation.
"The Rotary Club of Leonardtown is an avid supporter of our local community," states Barbara Thompson. Sixty percent of the proceeds from this event will benefit the first responders and their families; the remaining proceeds will be used to benefit the activities of the Leonardtown Rotary which include: multiple local and even international projects. The Leonardtown Rotary provides books and scholarships to children in the county, financial support for teachers, helps improve the environment through funding the St Mary's Oyster Reef, and supports many local charities that assist students, veterans and the needy. Worldwide, we help with polio eradication, provide clean drinking water to places that otherwise would be ravaged by disease, and sponsor student exchanges to help our young people and the young people from many lands experience life elsewhere, promoting peace and understanding."
Rain Date for the event is Saturday, June 17, 2017.
"We hope many in St Mary's and the surrounding counties will join us," adds Garlington. The event is fun for all, from serious kayakers and paddleboarders to those simply wanting to enjoy food and entertainment and watch. Who wouldn't like have fun and help First Responders and their families enhance their education? Come on out!"