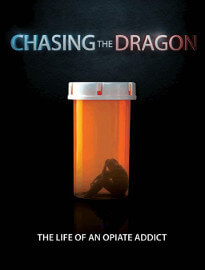 The public is invited to attend a free screening of "Chasing the Dragon," a 45-minute documentary about opioid and heroin addiction, on Wednesday, June 21 in the Charles County Government Building Commissioners Meeting Room (200 Baltimore Street, La Plata) at 6 p.m. This film chronicles how drug abuse devastates lives and draws attention to the prescription drug and heroin epidemic in the United States.
"Chasing the Dragon," a joint production of the Federal Bureau of Investigation and the Drug Enforcement Administration, was created to raise awareness about heroin and opioid abuse in the United States. The documentary contains several case studies of people who either became addicted to opiates themselves or had family members who were addicted. This movie includes adult content and is not recommended for children under the age of twelve.
Following the screening, representatives from the Department of Emergency Services, Charles County Sheriff's Office, University of Maryland Charles Regional Medical Center, and the Charles County Department of Health will address the topic of opioid abuse in Charles County and how their agencies are addressing this crisis.
The Charles County Department of Health will offer an overdose response training, to include instructions on how to administer NarcanTM (naloxone).  Naloxone is a drug used to treat narcotic overdose in an emergency situation. Each attendee will receive a free NarcanTM (naloxone) kit. If you or someone you know struggles with opiate abuse, the access to naloxone could be the difference between life and death.
Visit http://conta.cc/2siqYpe to register for the free screening of "Chasing the Dragon" and for the Naloxone training. Registration is preferred but walk-ins will be accepted if the space allows.
For additional information or questions, contact Erica Rizor at [email protected] or 301-645-0553.  Citizens with special needs may contact the Maryland Relay Service at 711, or Relay Service TDD: 800-735-2258.