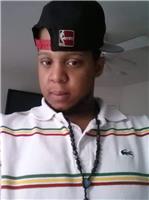 Darren Altorro Davis Jr. (27) passed unexpectedly the morning of May 24, 2017. He was born on August 21, 1989 in Beaufort, South Carolina to Darren and Valerie Davis.
He is predeceased by his mother, Valerie. We can imagine the glorious reunion of Darren reuniting with his mom Valerie Jackson-Davis whom has been patiently awaiting his arrival since December 27, 2012. Also, waiting to greet him his Grandfather Ronald Jackson and his uncle Dwayne Jackson. Knowing the pain of losing his mom we are comforted in knowing that Darren is no longer carrying that heavy burden. There will always be a place that no other will fit in Caroline's heart, a shape cut out just for Darren. With Darren's mild presence and calm personality, he was able to touch many others. Caroline, forever grateful to have felt his love, and experience a place in her heart described by her as "home" through his laugh and contagious smile.
Services will be held at 2 pm on Friday 2 June 2017 at Briscoe-Tonic Funeral Home 2294 Old Washington Road Waldorf, Maryland 20601 Left to honor Darren's memory is his wife Caroline and their four beautiful daughters Aubriana, Genevieve, Abigail, and Gabryelle, his mother and father in law Gretchen and Willis Campbell, sister in law Jenna Miller (Brooks), brother in law Willis Campbell, Brother Derrell Davis, Grandmothers Maxine Jackson, Margaret Staley and Nancy Davis (Walter), Uncle David Jackson, Father Darren Davis Sr (Donna), best friends Lewis Gardner, Diamond Franklin, and a host of other relatives and friends.