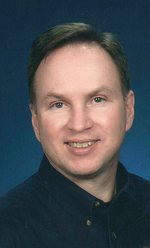 John David Tremel, 56, of Lexington Park, MD, who grew up in Holtsville, NY passed away on May 22, 2017 in Baltimore, MD. Born on February 5, 1961 in East Patchogue, NY, he was the son of the late Helen (Cardinale) Tremel and Walter Tremel. John was the loving husband of Cynthia Tremel, whom he married in Lancaster, CA on May 5, 1993. John is survived by his children: Bradley Tremel and Sarah Tremel both of Lexington Park, MD. Siblings; Walter Tremel of Chicago, IL, Mary Ellen Fautt of Mertztown, PA, James Tremel of Staunton, VA, Kathleen Masem of Medford, NY, Nancy McCowan of Nassau, NY, Robert Tremel of Center Moriches, NY, and Stephen Tremel of Holtsville, NY.
John graduated from Sachem High School, in Lake Ronkonkoma, NY, in 1979. He graduated from the State University of New York at Stony Brook with a Bachelor's of Science in Electrical Engineering in 1983 as well as a Master of Science in Electrical Engineering from California State University at Fresno in 1992. John worked as an engineer in avionics systems for 34 years. He worked for the United States Air Force at Edwards Air Force Base in California, and Warner Robins Air Logistics Center in Georgia as well as Grumman Aircraft and ARINC. In 2000, he moved from Bonaire, GA to St. Mary's County, MD and has been an engineer for the United States Navy at Patuxent River NAS.
John was a private pilot and enjoyed flying. In addition, he enjoyed building and flying remote control and control line airplanes. He loved model railroading. The neighborhood children would visit and enjoyed his holiday train layouts. He was a history, especially military history, buff. His children were his pride and joy. He enjoyed spending time with his family.
A Memorial Mass will be celebrated on Thursday, June 1, 2017 at 11:00 AM in Holy Face Catholic Church, Great Mills, MD with Father Jerry Gamrot officiating and Deacon Paul Bielewicz con celebrating.
Interment will be private.