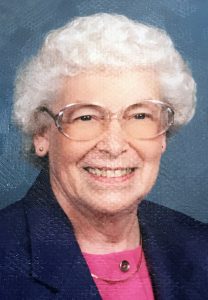 Frances Adelle Rosch, 95, of Solomons, died May 23, 2017, at Asbury-Solomons.
Born Nov. 3, 1921, to William and Anna Louise Butler of Richmond, Va., Frances later married her late husband, William John Rosch, on April 2, 1944. They moved to Washington, D.C., then to Oxon Hill, and after his death in 1959 she raised their four children.
Frances retired as an executive secretary at Bell Atlantic in Washington, D.C. She enjoyed spending time with friends and family, and made friends everywhere she went. Frances moved to Asbury-Solomons in 2004 and made several friends, including members of the staff. It was not uncommon for Frances to start dancing when she heard music, often encouraging those around her to dance with her.
She was a longtime member of Oxon Hill Lutheran Church where she participated on the altar guild and enjoyed taking part in charity fundraiser walks along with many other church activities. She also enjoyed spending time with her senior exercise group in Oxon Hill.
Frances began attending Trinity Lutheran Church in Lexington Park after moving to Solomons in 2004.
In addition to her parents and husband, she is preceded in death by her brothers, William and Nrothrop Butler.
She is survived by her son William E. Rosch and wife Arlene (Saul); daughter, Kathryn Phillips and husband Dennis; son, Walter James Rosch and wife Elayne (Ellison); son, Karl Rosch and fiancee Vanessa Javins; seven grandchildren: Michelle Glodeck (Rosch), Carl Eric Rosch; William, Jonathan and Gretchen Phillips and Sarah and Lauren Rosch; seven great-grandchildren and several nieces and nephews.