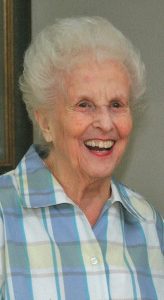 Doris E. Froman, 95, passed away May 25, 2017. She was born in Washington, D.C. in 1921 and graduated from Roosevelt High School in 1940. She began her career as a clerk typist with the International Brotherhood of Electrical Workers (IBEW) at their headquarters in Washington, D.C. She worked her way up to become Director of Purchasing, a position she held until her retirement in 1981.
Doris never married, but was like a mother to her many nieces and nephews. Known for her quick wit and funny stories, she brought joy to those around her. She enjoyed traveling throughout her life, visiting five continents. Her travels included trips to Rome, Italy, where she was blessed to have had two personal audiences with Pope Paul VI.
Doris was preceded in death by her parents, Eldridge and Florrie Froman, sister Mary L. Donaldson and brothers Earl and William Froman, Sr., nephews Steven Donaldson and Earl Froman, Jr. and niece Beverly Pearl. She is survived by nieces Lynn Kuhn and husband Charles of Owings, Robin Whitman and husband Stephen of Owings and June Bowker and husband Max of Thurmont, nephews Robert Donaldson and wife Joan of Edgewater, Timothy Donaldson and wife Sheila of Owings and William Froman, Jr. and wife Judy of Bishopsville. She is also survived by 18 great nieces and nephews and numerous great-great nieces and nephews.