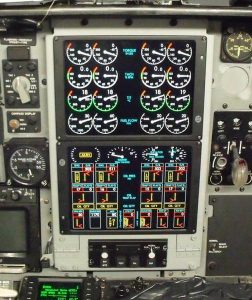 It's true.  Good things really do come in small packages. This was recently proven out by the Tactical Airlift Program Office (PMA-207) C-130T Electronic Propeller Control System and Engine Instrument Display System (EPCS/EIDS) team.
The three person EPCS/EIDS team's actions resulted in installations of the systems in 19 KC-130 aircraft in record time — on cost and ahead of the original schedule.
"Driven by a funding line that was due to expire, the EPCS/EIDS team worked with the contracts team to award the contract just nine months after the formal source selection team was formed," said Doug Dawson, PMA-207 program manager.
Working with industry, the installations were completed 15 months earlier than the scheduled completion date. EPCS and EIDS kits were fabricated and installed on 14 Marine Corps Reserve and five Navy Reserve KC-130T aircraft. Government furnished equipment kits were installed on 11 Marine Corps Reserve and five Navy Reserve KC-130T aircraft.
"This effort is a very good example of the team accepting the technical and contracting challenges, and proceeding with low overall risk," said Rich Stowell, PMA-207 C/KC-130 Legacy Integrated Product Team Lead.
"By upgrading the EPCS, we were able to reduce the maintenance time required for the system and improve aircraft readiness," said Stowell. "An added benefit is that the PMP stores propeller control data, including malfunctions, therefore assisting maintainers with troubleshooting and repairs."
The EIDS installation replaced 43 obsolescent analog cockpit gauges with two flat panel displays.  The new displays not only provide better reliability, but significantly improve Human Systems Integration attributes.