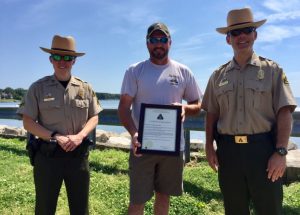 The Certificate of Appreciation was presented to Charter Captain Lee Tippett.
On Friday, April 20, 2017, at approximately 7:20 p.m, a 32-foot powerboat exploded and caught fire at the fuel dock at the Solomons Yachting Center in Calvert County
As flames began to spread to the dock, people cut the lines and attempted to shove the boat away, but the wind kept pushing it back.
Captain Lee Tippett arrived aboard his fishing boat, Fin Finder II, to assist. Using an anchor as a grappling hook, the charter Captain was able to corral the fully engulfed vessel and tow it to deeper water at the mouth of Back Creek and the Patuxent River, where the fire department extinguished the blaze.
Without his quick thinking and seamanship, the situation likely would have gotten worse.
The Maryland Natural Resources Police extends its sincere gratitude and appreciation.