Beach Visitors Encouraged to Help Crustaceans in Trouble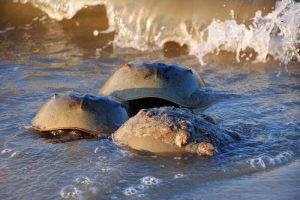 Through the month of June, visitors to Maryland's beaches can expect an astonishing sight – millions of horseshoe crabs will make their annual pilgrimage from the Atlantic Ocean to our shores.
Dating back at least 350 million years, it's one of the largest spawning events of horseshoe crabs in the world.
To ensure the horseshoe crab has a chance of survival, Marylanders can do their part in helping protect this valuable species. Anyone who spots a horseshoe crab flipped on its back is asked to gently flip the crab over so it can return to the wild. The best practice for flipping over a horseshoe crab is to pick the crab by its sides, not by its tail. While the horseshoe crab may look menacing, they are actually very gentle creatures and do not bite.
"This ancient species isn't the most nimble creature, and their short legs don't do the best job of helping them right themselves," said Maryland Department of Natural Resources biologist Steve Doctor, who conducts an annual survey of horseshoe crabs.
The species is important to Maryland's ecosystem. Horseshoe crab eggs are a vital source of food for millions of fauna, including migrating shore birds, blue crabs, white perch and striped bass. Also, adult horseshoe crab blood has been found to be a vital resource in medical products and research.
The largest numbers of horseshoe crabs can likely be found on or around the full moon, which takes place June 9, or the new moon June 23. During this spawning period an individual horseshoe crab could lay nearly 20,000 eggs on Maryland's beaches and shores.