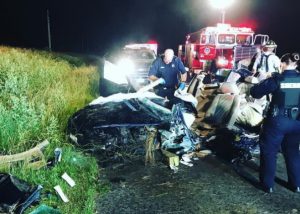 On Sunday, June 4, 2017, at approximately 12:34 a.m., police, fire and rescue crews responded to a report of  a motor vehicle accident with injuries on Colton Point Road, in the area of OAkley and Abell Roads, in Bushwood.
Crews arrived on scene to discover single vehicle overturned with the patient trapped.
One person was  transported by helicopter to an area trauma center for treatment.
The cause of the crash remains under investigation, as police continue to investigate.
Photos courtesy of Seventh District Volunteer Fire Department.