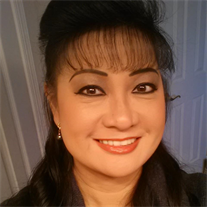 Mary Angeline "Angie" P. Thomas, age 52 of La Plata, Maryland, died June 5, 2017 at her residence with Hospice after a courageous battle with cancer. She was the beloved wife of 30 years to Douglas D. Thomas and was the mother of Matthew (26), Justin (15), Michael (13), and the late Jessica (+).
Angie was born in the Phillippines and moved to the United States in 1989. She is also survived by her parents, Godofredo and Araceli Page; her sisters, Arlene and Monalisa; and her brother, Ulysses; plus several nieces and nephews.
Friends received on Tuesday, June 13 2017 from 5-8PM with Wake Service at 7PM at Raymond Funeral Service Chapel, 5635 Washington Avenue, La Plata, Maryland 2046. Mass of Christian Burial on Wednesday, June 14, 2017 at 11AM at St. Joseph's Catholic Church in Pomfret, Maryland.
Interment at Resurrection Cemetery in Clinton, Maryland.