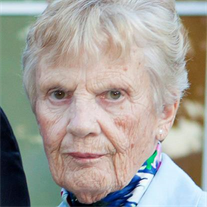 Mary Ellen Eusebio, age 88, died on June 1, 2017 in High Point, NC. She is survived by her sons, Michael J. Eusebio (Sally), Daniel J. Eusebio (Mary Ann) and Thomas C. Eusebio (Karen) and 5 grandchildren. She was born in Washington, DC and graduated from Maryland Park High School in 1946.
She was a Registered Nurse and worked as a county health nurse in Prince Georges County. She also worked in the Prince Georges County school system at Croom Vocational High School. After retirement, she and her husband, Stanley, operated a successful greenhouse business in Upper Marlboro, Maryland.
There will be a viewing on June 9 at Lee's Funeral Home in Clinton, MD (6633 Old Alexandria Ferry Road, Clinton, MD) from 5:00 to 7:00.
A Mass of Christian Burial will be celebrated at 11 a.m. on June 10 at Holy Rosary (Rosaryville Rd.) Catholic Church in Cheltenham, Md.