Charles County Corrections Staff Rejuvinate the Home of 80-Year-Old Widow As part of Christmas in April Program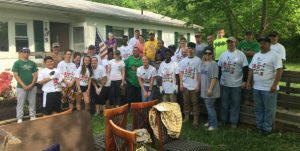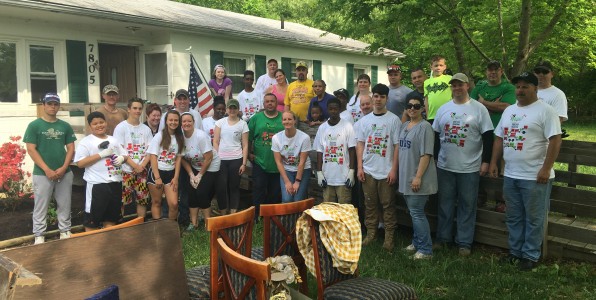 On Saturday, April 29 during the annual Christmas in April program, employees from the Charles County Detention Center (CCDC) along with their family members gave a makeover to the home of an 80-year-old Charles County widow. The woman, Mrs. Mary Rose Coates, cares for her two young great-grandchildren full time while their mother works as a nurse.
Corrections Officer First Class Michael Keeler, who heads up the program for the CCDC, selected Mary's house from a list of homes provided by Christmas in April after noticing that she was a widow. Her story touched the hearts of many corrections personnel who wanted to help her with projects that she wouldn't be able to do herself.
"Mrs. Coates has worked all of her life, even at 80 years old, taking care of her family. We wanted to give something back to show that her community cares about her family too," said CFC Keeler. "It felt great to help someone who is so deserving."
CFC Keeler and his team did extensive exterior and interior work to the home. They cleaned up the yard, planted flowers and bushes, and laid mulch. They also replaced the old shutters with new ones to make the home look fresh and new. After the team noticed the kitchen was in need of some repair, they decided to laminate the floor and give Mary a new backsplash behind the stove as well as install new lights in the kitchen and dining room. The living room, dining room, and hallway were all repainted, and new carpet is going to be installed in the living room.
The Corrections Division would like to extend very special thanks to CO Darren Bell, who donated the mulch, Ray Ghods of Carpet and Floors Market, who was kind enough to donate the laminate floor as well as a new rug, PFC Charlie Figgins, who helps with these projects year after year and provides his expertise in carpentry, and Sgt. Eric Kerth, who stepped up this year and assisted CFC Keeler with planning and setting up this huge undertaking.
"We are very proud that our Corrections Division participates in Christmas in April year after year," said Charles County Sheriff Troy Berry. "All who are involved pour their hearts and souls into these projects and really make a difference in people's lives. This is what community service is all about."