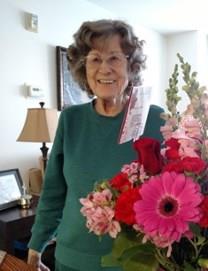 Gladys A. Buckler, 90, of La Plata, MD passed peacefully at The Charleston in Waldorf, MD on June 6, 2017.
Born on December 16, 1926 in Belton Alton, MD to the late Thomas A. Garner and the late Rosebelle A. Inscoe Garner. Gladys is one of 18 children and preceded in death by her brothers – Bernard, Russell, Wilson, Thomas Jr, Raymond, and George; sisters – Naomi, Georgetta, Ruth, Marian, Lillian, and Barbara.
Gladys is survived by five sisters – Irene Edwards, Betty Dull, Margaret Wedding, Rose Wedding and Ethel Manley.
Gladys is survived and beloved mother of Jacqueline Holson, son-in-law Joseph Holson Jr., Jean Carol Downey, Patti Windsor, son-in-law Bart Windsor. Beloved grandmother to grandchildren – Crystal McMullen, husband Rob McMullen, Staci Taglisferi, husband Joseph Taglisferi, Megan Sansbury, Patrick Downey, Matthew Downey, wife April Downey, Jordan Windsor and Reed Windsor. Beloved great grandmother to great grandchildren – Ryan McMullen, CJ Hoover, husband Ray Hoover, Riley McMullen, Rowdy McMullen, Broderick Draheim, Cole Sansbury and Hunter Sansbury.
Gladys and her 17 siblings grew up on a farm in Bel Alton. She lived with her family in Rich Hill in 1916 for a few years and again on December 8, 1944 -1954. Most historians believe this house was lived in by Colonel Samuel Cox, a prominent figure in Charles County history, and John Wilkes Booth hid in the attic after shooting President Lincoln.
Shortly after graduating from the local high school, Gladys moved to Washington DC where she worked for Blue Cross/Blue Shield for 30 years. She married the late James Louis Buckler and moved to Oxon Hill before settling in La Plata 7 years ago and relished life at The Maples where she had many friends. Gladys loved her daughters and grandchildren, enjoyed helping people, gardening and reading. Gladys was a very generous person and was always looking out for someone. She also enjoyed music and dancing, she danced on top of a table in her stocking feet to celebrate her birthday at age 75 years young.