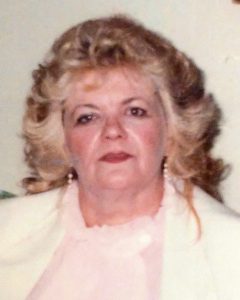 Shirley Faye Hamilton, 77, of Owings, MD passed away June 7, 2017 at her residence. She was born in Washington, D.C. November 20, 1939 to Everett and Tamiline (Gregan) Reid. She graduated from Burdick Vocational High School in Washington, D.C., where she was the president of her class.
Shirley married Fred J. Hamilton in Pennsylvania Baptist Church in October of 1957. The couple resided in SE Washington, D.C., Forest Heights and Clinton. Mr. Hamilton preceded her in death on December 16, 1983.
Shirley moved to Owings in August of 2016. She was employed with the Department of Health, Education, and Welfare as an audit specialist with the Department of Education until retiring in 1994.
Shirley enjoyed antiques especially glassware, jewelry and perfume bottles, and after retirement sold antiques at the market in Camp Springs. She was a member of Forest Heights Baptist Church in Oxon Hill. She loved spending time with her grandchildren, playing the slots and bingo.
Surviving are her sons Jeffrey Hamilton, Sr. and his wife Michele of Owings, MD and Dean C. Hamilton and his wife Julie of Huntingtown; grandchildren Jeffrey Hamilton, Jr. of Sunderland, Stephanie Dewitt and her husband John of Chesapeake Beach and Daniel Hamilton of Owings; great grandchildren Brandon and Austin Hamilton and Amelia and Nolan Dewitt; and sisters Mae Barnett of Royce City, TX and Joyce Wells of San Antonio, TX.