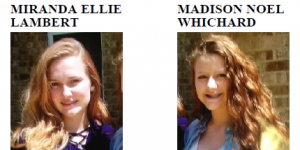 UPDATE 6/10/2017: The two 14-year-old girls reported missing from Calvert County have been located by police in West Virginia.
They were unharmed and were with their male companions.
Their parents have been notified by Maryland State Police.
6/9/2017: The Maryland State Police Prince Frederick Barrack are searching for two teenaged girls from Calvert County, who may have left the area in the company of two teenaged boys.
Anyone with information about the teens is asked to contact police.
The tens have been missing since Thursday, June 9, 2017.
They are both missing from the Huntingtown area of Calvert County, and should be together.
Miranda has straight blonde hair, and may possibly be wearing a brown and white tie dye hoodie sweatshirt, and tight brown sweatpants.
Madison has shoulder length blonde hair.
The two may have attempted to travel out of state with two teenage male companions.
Miranda Ellie Lambert is is described as
Age:14
Race: White
Hair: Blond
Eyes: Blue
Height: 5′ 4″
Weight: 115
Madison Noel Whichard is described as
Age:14
Race: White
Hair: Blond
Eyes: Brown
Height: 5′ 4″
Weight: 118