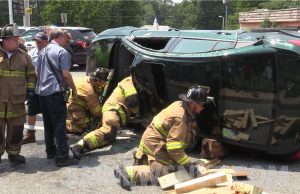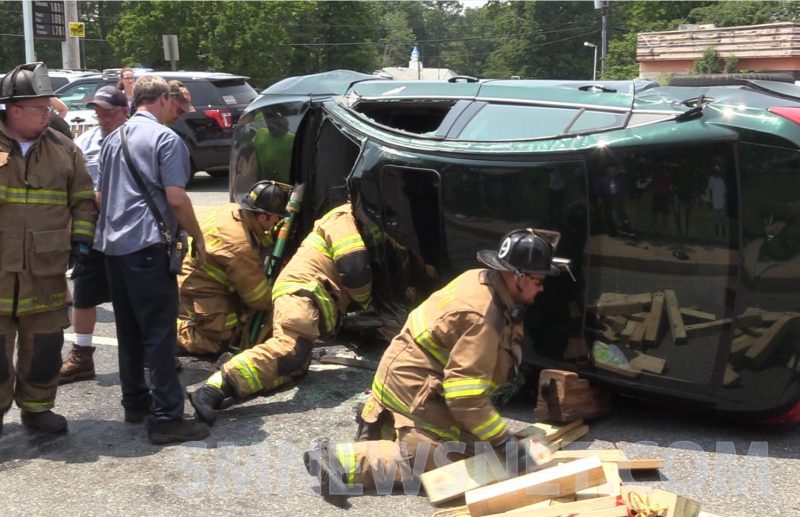 On Wednesday, June 14, 2017, at approximately 1:40 p.m, Deputies from the St. Mary's County Sheriff's Office and firefighters from Hollywood and Bay District responded to a serious motor vehicle collision on Great Mills Road, at the intersection of Chancellors Run Road, in Great Mills.
First Responders arrived on scene and discovered a two vehicle accident with Chevrolet passenger vehicle on it's side with the female driver unconscious and trapped in the vehicle.
Firefighters worked quickly to extract the adult female driver of the Chevrolet, and she was taken a short distance away to meet with Maryland State Police, Trooper 7 to be flown to an area trauma center for treatment.
Multiple witnesses on the scene said the Ford Mustang was making a left onto Great Mills Road from Chancellors Run Road, when the Chevrolet passenger vehicle, traveling on Great Mills Road ran the red light and struck the front end of the Ford. The Ford continued over the concrete divider, while the Chevrolet flipped over multiple times, coming to rest on it's side.
The female driver of the Ford and a female juvenile from the Chevrolet were taken by ambulance to a local hospital.
The St. Mary's County Sheriff's Office is investigating the accident.