Four suspects are charged in connection with armed robberies in Prince George's County and are believed to be linked to several other such crimes in the region. Over the span of just four weeks, detectives believe these same suspects targeted 10 separate 7-Elevens in three counties. The convenience stores are in Prince George's County, Anne Arundel County and Montgomery County. The FBI's Baltimore Field Office is also involved in this joint investigation.
Prince George's County patrol officers spotted and arrested the four suspects just minutes after they committed their final robbery on June 16th in the 6200 block of Suitland Road. Two handguns were recovered during the arrest.
The four suspects are 26-year-old Tyrone Murphy of the 100 block of Danbury Street in Southwest DC, 31-year-old Leighton Williams of the 1200 block of Howison Place in Southwest DC, 19-year-old Kione Banks of the unit block of N Street in Southwest DC and his 27-year-old brother, Khiry Banks, of the 2400 block of Hartford Street in Southeast DC. Kione Banks is charged with the robbery on Suitland Road only. The additional three suspects are charged in connection with all three cases in Prince Georges County.
Here is a breakdown of the robberies believed linked to these suspects: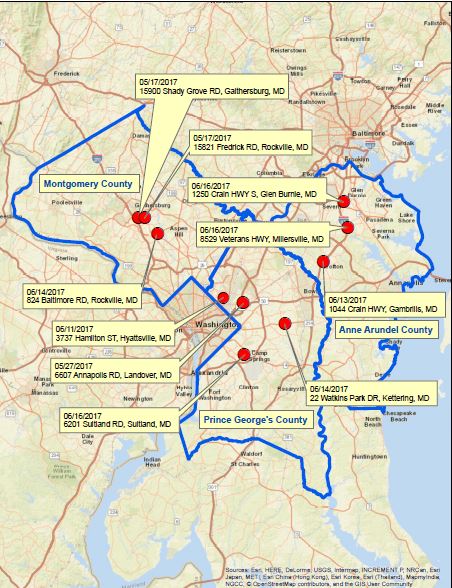 During the course of the investigation, detectives identified a car possibly linked to one of the suspects. Investigators shared the car description with area law enforcement and broadcast it out to patrol officers which ultimately led to the arrests early Friday morning.
Murphy, Williams and Khiry Banks remain in custody of the Prince George's County Department of Corrections. Kione Banks has posted bond and is no longer in custody.