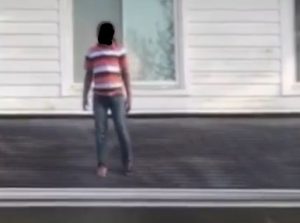 6/22/2017: SMNEWSNET.COM was contacted by a neighbor of the juvenile offender who provided us with an edited video of the reported incident, we then blurred the entire video to conceal the juveniles face.
They also provided us with a surveillance video of the same juvenile stealing from a neighborhood house.
They told SMNEWSNET.COM that the police have been contacted numerous times about the juvenile for reports of theft, destruction of property, burglary and in one case grabbing a woman's breast.

6/21/2017: On June 6, 2017, Deputy R. Steinbach from the St. Mary's County Sheriff's Office responded to a residence on Hawthorn Way in Lexington Park for the report of destruction to property.
The victim contacted the Sheriff's Office after a neighbor notified the victim that a male juvenile urinated on the victim's steaks.
The investigation revealed the victim was grilling steaks in the backyard when the suspect, a 7-year-old male juvenile, urinated off his roof onto the victim's grill.
The incident was captured on camera by the witness, who was familiar with the juvenile committing other acts of property destruction in the neighborhood.
The juvenile was processed and charged with One Count of Malicious Destruction of Property Value – $1000.