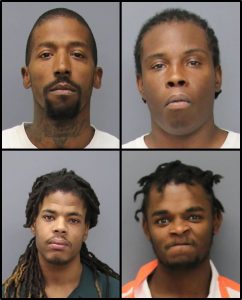 On Tuesday, April 18, 2017, at approximately 5:10 a.m., four masked men entered the Dash-In in White Plains and demanded money from the clerk.
After obtaining the cash register, one of the suspects fired two shots from a shotgun, striking the ceiling and a display case. The suspects fled in a minivan, which was found a short time later on fire.
During the course of the investigation, detectives from the Charles County Sheriff's Office identified and arrested all four suspects.
Nathan Ellsworth Proctor, 34, of Bryans Road; Corey Kelton, 25, of Marbury; Anthony Walls, 23, of Indian Head; and Tyrel Adams, 20, of Indian Head, were charged with armed robbery, first-degree assault, second-degree assault and other related charges.
They are being held in the Charles County Detention Center. Det. C. Gregory investigated.