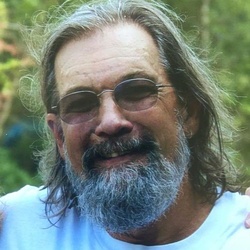 James Lenderman Wilbar, Jr. 66, of California, MD, formerly of Walkersville, MD, passed from this earthly plain onto his next great adventure on June 18, 2017.
He was born October 23, 1950 in Washington, DC, to the late Marguerite Merrell Wilbar and James Lenderman Wilbar, Sr.
Jim was a Navy veteran and owned Wilbar Welding works for 32 dedicated years. He was a Harley Davidson enthusiast, loved boating, fishing and cats. He recently rekindled his love of refurbishing old stereos.
He leaves behind his beloved wife, Sunora Knill Wilbar; sons, James R. Wilbar, Evan B. Atkinson (Ashley), Nick Dutrow; daughters, Tracy Wilbar Lynn, (Bryan), Molly Atkinson; and his sister, Linda Gates and son, Doug Drake (Dorothy) and daughter, Heather Drake. He was the proud grandfather of Audra Robinson, Tyler Welch, Jared, Braydon, and Lexi Lynn, Camden and Beckett Atkinson and favorite grandniece, Johnnie Paige Deane. Jim was loved by many and also leaves behind his special friends: Tim and Marsha Killmon, Jim and Joan Shea, Mike Quatro, Bill and Karen Mulligan, Marty and Collette Bruder, Ben and Donna Myers, and David Herman Hall. He is remembered by his loving cousins, Betty Jo Ellis and family and Rusty Chick; sister-in-law, Holly Knill and niece, Cate Deane. In addition to his parents, he is also preceded in death by Carol Barley Wilbar and his nephew, Matthew Drake.