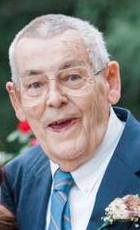 John Lloyd Walker, Jr., 79, of Solomons, MD, and formerly from Millsboro, DE, passed away on June 16, 2017 at Asbury-Solomons Health Care Center.
Born January 1, 1938 in Buffalo, NY, he was the son of the late John L. Walker and Marie A. (Stever) Walker.
John graduated from Syracuse University. He Married Becky Walker on October 19, 1973 and became an instant father to her three girls. At that time he worked in cancer research at Flow Laboratories. He continued to work in research until 1992 when he and Becky decided to open Mostly Irish, a gift shop located in Rehoboth Beach Delaware. He happily was the purveyor at this establishment until his retirement in 2007. Since that time he continued to be a very loving Husband, father, and PapaJohn to his grand and great grandchildren.
John is survived by his children, Julie A. Khalil of Leonardtown, MD, Michele Ivill (Mark) of Apopka, FL and Sharon Madden (David) of Leonardtown, MD; grandchildren, Daniel, Gabrielle, Elise, Melanie, Sarah, Delaney and Luke; three great-grandchildren; and sister, Sandra Wolgast of Grand Island, NY. He was preceded in death by his wife Becky; and his grandson, Shayne.