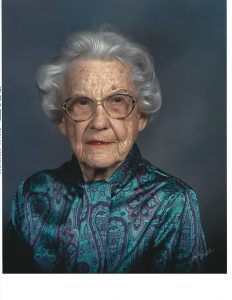 Dorothy "Dots" Vivian Oursler, 102, of St. Leonard, MD passed away peacefully on June 21, 2017 at her home in St. Leonard, MD. She was born on July 16, 1914 in Clinton, MD to Griffith Surch and Edith Pearl Oursler. She attended and graduated from Surrattsville High School and then entered into Strayer College of Accountancy specializing in secretarial and management courses. After graduating college, she entered into employment with the Department of Agriculture, Soil Conservation Service, as a Classification and Wage Specialist. She worked there for over 40 years, retiring in 1978.
Dots spent a lot of her time traveling back and forth between her homes in Clinton and St. Leonard. Her home in St. Leonard was her "Riverhouse" where she loved to go in the summertime to crab, fish and garden. She loved being on the water and enjoyed nature. She also loved to cook and bake and her crab cakes were her best recipe. She was an expert at playing the game "Upwords" beating most who would play the game with her. If she didn't recognize a word, out would come her dictionary to check the spelling!
She enjoyed passing time with friends and family members on her porch in St Leonard and often looked at her nieces and nephews as her own children.