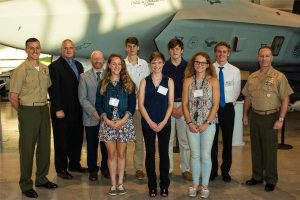 During a June 13 ceremony, seven local high school graduates received a total of $30,000 from the John Glenn Squadron Scholarship Program to pursue degrees in science, technology, engineering and mathematics.
"For 11 years, the John Glenn Squadron Scholarship Program has given out close to $400,000 to 91 men and women from [St. Mary's, Calvert and Charles counties]," said Brig. Gen. Greg Masiello, assistant commander for Logistics and Industrial Operations, Naval Air Systems Command (NAVAIR).
The $30,000 amount is the second highest provided by a scholarship program in St. Mary's County. Two recipients were awarded $5,000 scholarships while the remaining five received $4,000 each. Masiello, delivered remarks during the Marine Corps Aviation Association (MCAA) John Glenn Squadron Scholarship award ceremony at Pax River Museum.
The MCAA John Glenn Squadron and its scholarship program are named after American icon John Glenn, an astronaut and Ohio senator who served as a test pilot at Naval Air Station Patuxent River prior to entering the U.S. space program.
In his remarks, Masiello described meeting John Glenn and his wife, Anna "Annie" Margaret Glenn, when he received the MCAA Lt. Gen. Michael A. Hough Acquisition Officer of the Year award in 2005. During that meeting, Masiello learned the John and Annie Glenn believed academic achievement should be more than a goal in and of itself. They believed it must be tied to community service.
"The Glenns had a love for education and for country," Masiello recalled. "Senator Glenn told me, 'Whatever you do, give back to others.' I'm going to tell you the same thing."
While praising the academic achievements of the graduates, Masiello also asked that they acknowledge the support they received from community stakeholders, including St. Mary's County Business, Education and Community Alliance, Inc. "Thank the educators that are here as well," he added. "They had a role in your success."
Scholarship recipient Rylee Young, a Leonardtown High School graduate who was awarded $4,000, said she appreciated the support she received from the community and her family during the application process. Young plans to study genetics at North Carolina State University.
"At first, I wasn't going to apply, but my father encouraged me," she said. "Because of this experience, I learned to keep my options open, and I would advise others to do the same thing. Do well in school and don't set limits. Take advantage of every opportunity that presents itself."
Curtis Aaron, a Great Mills High School graduate who also was awarded $4,000, agreed. He plans to study computer engineering at Villanova University. "Taking action is the first step to success," he said.
Among the MCAA's other $4,000 scholarship recipients were Great Mills High School graduates Joseph Crawford, who plans to study computer science; Dominic Ichniowski, who plans to study aerospace engineering; and a Leonardtown High School graduate Anna Weber, who plans to study environmental engineering.
2017 marks the first year the MCAA John Glenn Squadron named its top award of $5,000 "The Annie Glenn Scholarship" after John Glenn's wife. Great Mills High School graduates Michelle Beaulieu and Anna Staats are the first recipients of the award.
Again recalling his meeting with the Glenns, Masiello said John Glenn spoke openly about his wife's personal challenges.
"She had a severe speech impediment that caused her to stutter 85 percent of her words," Masiello said. "As we get older, many of us would find going back to school daunting. But at 53, she enrolled in a speech therapy program at the Communications Research Institute at Hollins College in Roanoke, Virginia, where she overcame her disability."
Even before then, Annie Glenn was accomplished in her own right, Masiello said.
"She served as navigator and radio operator when [the Glenns] flew in a private aircraft between Washington, D.C., and their home in Columbus, Ohio," he said. "She headed up her husband's first campaign for U.S. Senate in March 1964 after Senator Glenn became bedridden due to an accident."
After overcoming her speech impediment, she served on numerous boards and panels and taught as an adjunct assistant professor for the Department of Speech and Hearing Science at The Ohio State University.
"She didn't shy away from challenges," he said.  "She and her husband are exemplary role models."
Paul Croisetiere, MCAA John Glenn Squadron Scholarship Foundation chairman, echoed Masiello's sentiments in his closing remarks, citing Annie Glenn's compassion for those who struggle with speech and hearing challenges. "Ms. Glenn more than once reached out to those in need," he said. "The Annie Glenn Scholarship is a fitting tribute to its namesake."
Beaulieu, who interned at Naval Air Station (NAS) Patuxent River Cooling and Trapping Laboratory last summer and plans to attend the State University of New York at Binghamton to major in physics and mathematics, said she intends to follow Masiello's advice.
"I've always done well in math and science and I like logic puzzles," she said. I want to use my ability in this area to help people, especially to conduct research on smart energy to bring it to places in the world that need services."
When she was 11, Beaulieu also met Senator John Glenn. "I had a book that I collected data in for a science fair," she said. "He was there and signed it. I still have the book."
Staats, who plans to attend University of Maryland Baltimore County to study computer science and mathematics, has already begun to apply her knowledge. While interning at NAS Patuxent River in the Airborne Multi-Intelligence Special Missions Laboratory, she created a graphical user interface program to test KC-130J Hercules aircraft radios.
"That internship illuminated other opportunities in computer sciences," she said. "It's not just coding or cyber security."
Col. Steven Girard, commanding officer of the MCAA John Glenn Squadron and commanding officer of Marine Aviation Detachment Patuxent River, said the talent and drive of the graduates honored the scholarships' namesake. "I see the future of Naval Aviation sitting out in front of me," he said. "[Their] accomplishments are a testament to everything they've done for the family and our nation."
Masiello advised the scholarship recipients to enjoy this time in their lives. "Four years goes quickly. I believe we will all hear about your accomplishments in the future," he said. "This journey is yours. This is just the beginning."