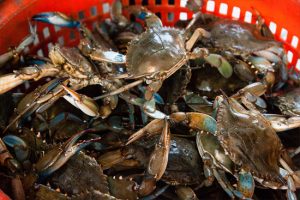 Fisheries experts have encouraged Maryland, Virginia and the Potomac River Fisheries Commission to take a cautious approach to blue crab management as they set harvest regulations for the coming year. In the annual Chesapeake Bay Blue Crab Advisory Report, these experts note that while the 2016 female blue crab harvest was lower than regulations require and the 2017 adult female blue crab population was above what is considered a healthy level, the overall blue crab population fell almost 18 percent in 2017.
The Blue Crab Advisory Report is published by the Chesapeake Bay Stock Assessment Committee (CBSAC): a team of federal fisheries experts and scientists and representatives from state agencies and academic institutions. It is meant to provide resource managers with scientific data and advice.
According to the report, the start of the 2017 crabbing season saw
an estimated 254 million adult female crabs
in the Bay: a 31 percent increase from last year's adult female blue crab abundance. Because this number is above the 215 million target and the 70 million threshold, the blue crab stock is not considered depleted. And because only
16 percent of the female blue crab population was harvested
in 2016—which is below the 25.5 percent target and the 34 percent overfishing threshold—overfishing is not occurring. However, the overall blue crab population fell from 553 million to 455 million between 2016 and 2017.
"The highly variable nature of blue crabs was on full display this past year," said CBSAC Chair Glenn Davis in a media release. "The largest abundance of spawning females from the Winter Dredge Survey time series was great news, and demonstrated what can happen when jurisdictions adhere to science-based management. The low recruitment [or number of young crabs entering the adult population] served as a reminder that large inter-annual fluctuations can be part of the norm and that managing blue crabs is a continuous challenge."
In its report, CBSAC recommends:
A cautious, risk-averse approach to managing blue crabs. This could include scaling back fall fishery regulations in order to ensure more young crabs survive to spawn next season.
Improving the accuracy of tracking commercial and recreational crab harvests and exploring new reporting technologies.
Addressing specific research questions and discussing the timing, rationale and resources for future assessments of the blue crab stock to provide in-depth analyses of the blue crab population, fishery and management.
"The annual Blue Crab Advisory Report provides valuable data analysis and recommendations to the agencies that manage crabs here in the Bay to help them make scientifically informed decisions regarding our beloved—and valuable—blue crabs," said Chesapeake Bay Program Sustainable Fisheries Goal Implementation Team Chair Sean Corson in a media release. "The science it features enables us to enjoy crabs…today and in future years."