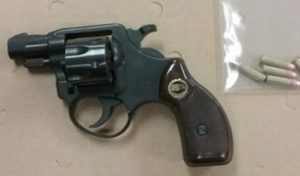 The Prince George's County Police Department is investigating a fatal crash in Suitland.
The decedent is 48-year-old Derrick Foster of Lake Arbor Way in Bowie.
On Tuesday, June 27, 2017, at 1:15 a.m., patrol officers responded to 1000 block of Largo Center Drive for the report of an armed carjacking and robbery. A male and female victim told officers a man armed with a gun demanded their property and demanded the female victim's car. In fear for her life, she turned over the car keys. A description of the suspect and the car were broadcast across the county. A patrol officer about 10 miles away in Suitland spotted the carjacked vehicle, activated his emergency equipment, and began to pursue the car.
During the 30-second pursuit, in an attempt to evade the pursuing officer, the speeding suspect turned off the lights of the carjacked vehicle causing the pursuing officer to lose sight of the car. The suspect ultimately crashed into two utility poles in the 4200 block of Silver Hill Road and the car caught fire. Responding officers tried to save the suspect by extinguishing the flames and pulling the suspect from the car. He was pronounced dead on the scene. Officers did recover a gun from the decedent.