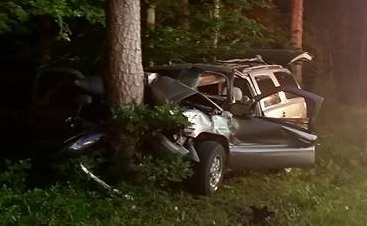 On June 26, 2017, at approximately 8:23 PM, patrol officers from the St. Mary's County Sheriff's Office responded to a serious single motor vehicle collision on Vista Road in the area of Whiskey Creek Road in Hollywood. Officers located a 2000 Chevrolet Tahoe off the roadway and into a tree with both the operator and front seat passenger trapped in the vehicle suffering from serious injuries.
The St. Mary's County Sheriff's Office Collision Reconstruction Unit responded and assumed the investigation. The preliminary investigation revealed the Tahoe was traveling east on Vista Road when for unknown reasons, the vehicle left the roadway.
The operator of the Tahoe, Dominique Ofano, age 20, of Hollywood attempted to regain control of the vehicle; however, overcorrected, causing the vehicle to leave the roadway again and strike a tree. Ofano and the passenger, Angela Goldsborough, age 21, of Hollywood were transported by Trooper 7 to MedStar Washington Hospital Center. At this time speed is believed to be a contributing factor.
Anyone who may have witnessed the collision or any events leading up to the collision is asked to call Deputy First Class Vincent Pontorno at 301-475-4200, ext. *2337.