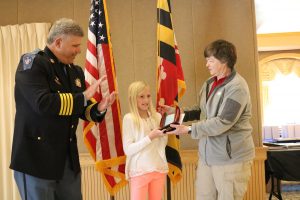 While watching the news and eating breakfast with her mother, Sheri Kaelin, Layla heard a story about K-9 dogs that were injured because they weren't wearing vests. Without hesitation, the young animal lover told her mother she wanted to raise money to purchase vests for her local police department's K-9 unit. That's where the story begins.
Layla's mom contacted Sgt. Todd Fleenor, leader of the St. Mary's County Sheriff's Office K-9 unit, asking if they needed vests. Fleenor explained to her that while they already had vests, their funds to buy other equipment for the unit had been depleted when they purchased Brix, the newest K-9 Unit member.
Shortly after that conversation, Layla's mom helped her start a GoFundMe account, and together they made donation jars. Soon after, they set up outside local businesses on various Saturdays and Sundays and collected money for the unit. Layla even made homemade dog treat bags that she gave away in return for donations.
Their fundraising efforts spanned from the end of January to the beginning of June with Layla raising $1,300 for the K-9 Unit. Her donation was used to replenish the K-9 Unit's funds and to purchase the equipment needed after Brix and Deputy First Class Lacey Johnson were put into service with the sheriff's office.
On April 14, the sheriff's office recognized Layla for her efforts by presenting her with the Stanley J. Goodwin Award at the annual awards ceremony. This recognition is given to those who honor Stanley Goodwin's memory by giving countless hours to his country and the St. Mary's County community. The award is typically reserved for an adult. At such a young age, Layla met the high standards that Mr. Goodwin so graciously represented.
"I feel that the K-9 Unit is important to support because they help in so many ways," Layla said. "They can help find people, they can help stop criminals, and they make great partners!"
This time the sheriff's office was the recipient of Layla's generosity, but her mom told them that Layla has been doing fundraisers for local organizations since first grade.
"Layla also donated money to the pet food pantry and the animal relief fund," Sheri said. "She's very into animals."
"Taking a proactive role for the benefit of the community at such a young age is truly an inspiration," Said Sgt. Fleenor. "She is a truly a leader in our community."
Sheriff Cameron, the men and women of the sheriff's office, and especially the K-9 Unit are truly grateful for Layla's time, effort and generosity.