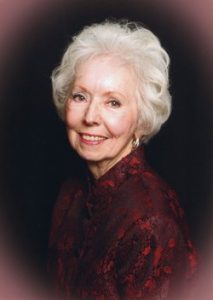 Dixie Marilyn Horton-Betters, 80, of Great Mills, MD passed away June 25, 2017 at her home surrounded by her loving family.
She was born on September 7, 1936 in Arkansas to the late Howard Franklin May and Dixie June Beyland.
Marilyn attended the University of Chattanooga and is a graduate of the University of Georgia, earning a Bachelor of Arts degree in Art. She completed graduate work at George Washington University. She was a member of Alpha Delta Pi Sorority. She began her career working as a Cartographer for the Department of Defense in Oakridge, TN, where she created maps of Vietnam. Then she was employed as an art instructor for Annapolis High School, Esperanza Middle School and Great Mills High School. On April 17, 1965 she married her beloved husband, Joe Travis Horton. Together they celebrated over 42 wonderful years of marriage before his passing in 2008. She took time off to raise her children and worked part-time as a substitute teacher. She began working with her husband at Horton Realty in 1976, where she was dedicated to serving others for over 40 years. On January 24, 2015, she married Richard Betters in Annapolis, MD. Together they celebrated two years filled with love and memories.
Marilyn was a worldwide traveler. She began traveling when she graduated college by touring Europe. She took several memorable trips with her daughters including; the Amazon Rain Forest, an African Safari, a tour of India and also toured China (twice). She hiked Machu Picchu, climbed the Great Wall and rode elephants! She was passionate about quilting and was a member of the Pax River Quilters Guild and made many beautiful quilts. As a guild member, she made ornaments for the Christmas tree at Hospice of St. Mary's annually. Making quilts for all of her grandchildren brought her much joy. She proudly displayed her quilts throughout her home and loved attending quilt shows. She was also a member of the Major William Thomas Chapter of Daughters of the American Revolution (DAR) in St. Mary's City, Order of the Eastern Star (over 50 years), Southern Maryland Board of Realtors (past president), and Patuxent Presbyterian Church.
Her greatest joy was spending time with her family, especially her children and grandchildren.
In addition to her beloved husband, Richard, she is also survived by her children: Lisa Marie Horton Kennon (Greg) of Margate, FL, Cynthia Ann Horton-Armstrong (Brad) of Crownsville, MD, and Cristen Howard Horton (Jennifer) of California, MD; her brother, Patrick May of Gatlinburg, TN; grandchildren: Kyle Anthony Kennon, Ryan Beyland Kennon, Hayley Rae Kennon, Ava Sarah-June Armstrong, Dalton Jacob Armstrong, Nathaniel C. Horton, Gwendolyn M. Horton, and Gabriel L. Horton; nephew, Donald May; and many extended family and friends. In addition to her parents, she is also preceded in death by her husband, Joe Travis Horton.
A Celebration of Life and Memorial Service by Pastor Mike Jones will be given at 11:00 a.m., at The Patuxent Presbyterian Church, 23421 Kingston Creek Road, California, MD 20619. Entombment will be private.