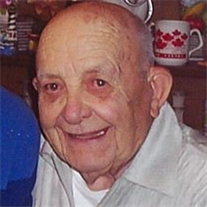 James Thomas "Jimmy" Giles, age 86 of Waldorf, Maryland, died June 24, 2017 at Restore Health in White Plains, Maryland.
Jimmy was a Plumbing Foreman with Taylor Electric in Waldorf, Maryland and was a member of St. Peter's Catholic Church, also in Waldorf, Maryland. He was also a member of the American Legion in Waldorf, a life-time member of the VFW-Elks. He enjoyed hunting, fishing, working on the farm, and his beloved dog, Susie. He was especially proud of his grandkids.
He was the son of Hence Cleveland Giles and Anna Margaret Curran Giles. In addition to his parents, he was also predeceased by his brother, Hence C. Giles "Jr." and his sister, Margaret O'Grady.
He is survived by his wife, Shirley A. Giles; his son, James "Mike" Giles (Janean); his grandchildren, Kristin Giles Miller and Adam Michael Giles; and his great grandchildren, Austin, Eva, and Hadley.
Friends received on Wednesday, July 5, 2017 from 10AM until time of Funeral Service at 12PM at Raymond Funeral Service Chapel, 5635 Washington Avenue, La Plata, Maryland 20646.
Interment to follow at 1PM at Maryland Veterans Cemetery, 11301 Crain Highway, Cheltenham, Maryland 20623.