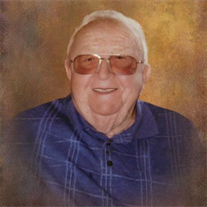 Charles Robert Hudson III, age 83 of Newburg, Maryland, died June 25, 2017 at his residence.
Charles was a carpenter with the United Brotherhood of Carpenters and Joiners of America Local 132. He was a member of the First Baptist Church in La Plata, Maryland and a life-time member of the NRA. In his youth, he was a Golden Gloves boxer. He enjoyed fishing, crabbing, hunting, and his dog, Superman.
He was the son of Charles Robert Hudson Jr. and Annie R. Morgan Hudson.
He is survived by his sons, Charles R. Hudson IV (Carolyn) and James P. Hudson (Sandy); his sisters, Shirley Benton, Annie Hays, and Lillian Levy; his grandchild, Danielle Hudson; and his great-grandchildren, Alexis and Tyler.
Friends received on Friday, June 30, 2017 from 9AM until time of Funeral Service at 10AM at Raymond Funeral Service Chapel, 5635 Washington Avenue, La Plata, Maryland 20646. Interment to follow at Chesapeake Highlands Memorial Cemetery, 3270 Broomes Island Road, Port Republic, Maryland 20676.