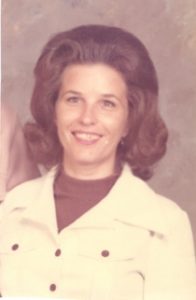 Barbara Jean Tayman, 71, of Waldorf, MD passed away on June 24, 2017 at the University of Maryland Charles Regional Medical Center in LaPlata, MD.
Born on February 23, 1946 in Kissimmee, FL to the late Frank Folker and the late Jeanette Folker, Barbara is also preceded in death by her husband, Francis Tayman; and her sisters, Mary Weaver and Betty Walters. Barbara is survived by her son, Tracy Tayman (Laryssa); daughters, Melissa Clemens (Ken); Tanya Tayman, Elizabeth McClanahan, Pamela Jurney (Randy) and Karen Lofton (Jeff); 12 grandchildren and one greatgrandchild.
Barbara was employed as a medical biller for Dr. Pritchett. She was a member of the VFW, Moose Lodge (White Plains) and one of the founding members of the Newburg Rescue Squad. She enjoyed camping, gardening and crocheting in her spare time. Barbara was happiest spending time with her grandchildren and family.
Visitation will be held on Saturday, July 1, 2017 from 9AM to 11AM at the Arehart-Echols Funeral Home, PA, 211 St. Mary's Ave., LaPlata, MD; where a Funeral Service will begin at 11AM. Interment will be held at MD Veteran's Cemetery at a later date.