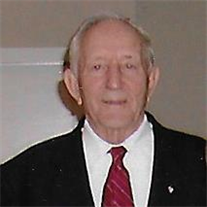 Ernest John Arhar of Dunkirk, MD, passed away on Friday, June 23, 2017, at the age of 89.
He was born in Davis, WV, on September 7, 1927, to Frances (Mivec) and Andy Arhar.
Ernest was the beloved husband of Marion (Minor) Arhar and the loving father of Mark and his wife Mary Ann, John and Edward and his wife Penillipe. He was the devoted grandfather of Christopher, Caitlyn and Michelle and the brother of Edward Arhar and is wife Rosiale.
Family invites friends to St. Anthony's Catholic Church, 8816 Chesapeake Avenue, North Beach, MD 20714, on Wednesday, June 28 from 10 am until the start of the Mass of Christian Burial at 11 am. Entombment will follow at Resurrection Cemetery.