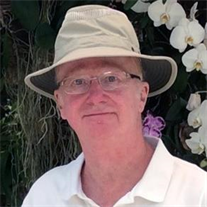 Max Eugene Clayton, 67, of Clinton, MD, passed away on Friday June 23, 2017.
He was born on July 7, 1949 to Doris (Call) and Harold Clayton in Streator, IL.
Max joined the United States Air Force after he graduated high school in 1969. While serving in Kunsan, South Korea, in 1976, he met the love of his life, Kun (Mun). On December 29, 1978 they married and shared 38 loving years together.
In addition to his beloved wife, Max is survived by his two adoring children, Jason (Kathleen) Clayton of Pepper Pike, OH, and Jessica (Kevin) Griffith of Suitland, MD; his dear grandchildren Benjamin, Chase, Carter, Annelise, and Charley.
Dear brother of the late Carol Johnson and her surviving spouse, Lingell, and the late Harold "Wayne" Clayton.
Max was described as a very kind-hearted and humble man who loved his family immensely. His devotion to his wife, children, and grandchildren was admirable. He was a history buff who loved watching Jeopardy and had wealth of knowledge of "useless" trivia. Max was a self-proclaimed Mr. Fix-it, who enjoyed working with his hands and fixing things around the house. One of his greatest attributes was his selfless devotion to helping others. He took great in pride in making sure that everyone else was taken care of. Max was such a bright light in this world and his presence will surely be missed!